Diette/Hydary Wedding 2013
To whom it may concern,

My name is Nichole Diette and I recently got married on March 2nd, 2013 to the love of my life Joey Diette. Our wedding was held at Old Ranch Country Club in Seal Beach, California. It was a beautiful day for a wedding. Joey and I began planning our wedding a year prior to our wedding date. With much thought we knew we wanted to have a live 80's band perform at our wedding.

I had the pleasure to meet Eddie Stephens last year in Fullerton, prior to one of the Deloreans evening gigs. After seeing him playing with his band, I was stoked on how talented of musicians they were. We knew that The Deloreans were the band we had to book for our wedding.

Eddie Stephens was not only the go to guy to book the band but he went with my then Fiancé to all of our venue appointments, was professional and organized and continued to keep in contact with us throughout the year leading up to our wedding. We went over itinerary of the day and he was so great with contacting our venue to make sure everything ran smoothly.

The day of the wedding Eddie came quite early to set up, make sure everything was going according to plan, and set up an extra microphone for us at the ceremony. He was at our venue early, checked in with us, and began setting up early. He was amazing.

Your incredible energy from the moment we walked in, continued through the night without ever letting up! The Band can really make or break a party and we were completely thrilled with everything you did to make our wedding a success. You knew your audience and gave them what they wanted, which was great upbeat music that kept everyone on the dance floor! At one point the band came out on the dance floor and had everyone singing to "Don't Stop Believing", by Journey, it was the funnest moment, and we will forever remember it.
The presentation of everything was spectacular, the band was friendly, dressed properly for the wedding, had awesome staging lights, and a great presence. They were age friendly and got everyone on the dance floor. Eddie was humorous and genuine as our MC and shared stories of the yearlong engagement and process leading up to the wedding; it was such a great day.
Since the wedding our guest have raved about how great you guys were and how great the music was that night.

We will absolutely recommend you to others and if you ever need a reference feel free to contact us.

Sincerely,

Nichole Hydaryacil
Email- obey714@yahoo.com


"The Deloreans performed for the first time for the City of Manhattan Beach in our 33rd annual summer concert series at Polliwog Park. This community event draws an average audience of over 5000 people each week.
I highly recommend this band for your next event. The band was easy to work with, professional, punctual, energetic and enthusiastic. We would love to have them return to perform for us in the future." - Vicky Huynh - Interim Performing Arts Supervisor
Click For Full Reference Letter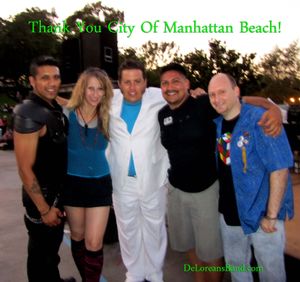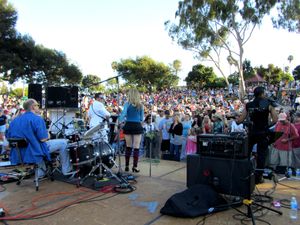 ---
So-Cal Office Technologies
"Hiring the 'Deloreans Band' for the entertainment at this year's event was a HUGE success! I can't tell you how many employees came up to me and said 'The band is Great! What a great idea. This is so much fun!' I would recommend them to any company looking to energize their workforce!" - Brenda Merrill Exec. V.P. at So-Cal Office Technologies.
Click For Full Reference Letter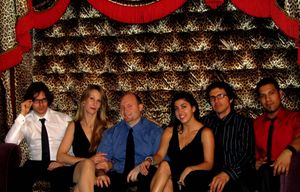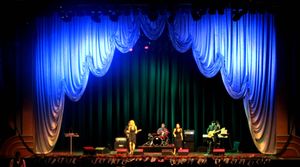 ---
Girl Scouts Of Greater Los Angeles
"You showed up early, you were quick to set up. Your band started on time and played great "age-appropriate" songs. I have heard great feedback from the girls and the adults. The adults loved hearing some entertainment for them and that they could sing along and relive some 80's moments with their troop through your songs. The Mall Madness event was a great opportunity to expose your business to over 1500 attendees. Your participation helped make this an even more memorable event for these girls." - Elisa Blackmon Program Delivery Dept. at Girl Scouts of Greater Los Angeles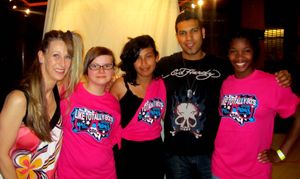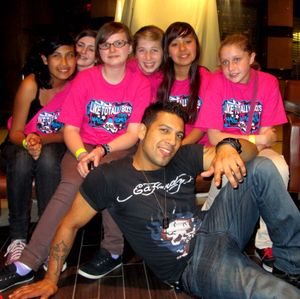 ---
"WOW!! What a great party! My husband's 50th birthday party was absolutely the bomb and it was due to hiring your band. Everyone, and I mean everyone loved your music. The 80's sound really is the perfect decade of music for our age group!! The memories and dance moves just come flooding back! I can't thank you enough for your professionalism in arranging the details and keeping me informed every step of the way. It was so easy dealing with you. I feel so fortunate to have found you and I will continue to follow your respective careers and be a huge fan!!" - Teresa Shourds, Private Client

---